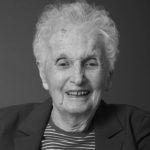 Sister Miriam
I met her in church when my kids were just babies. She would bustle through before or after Mass, always stopping to talk to the line of people who needed a prayer or a hug. I could never remember her name. Then when the boys were a little older (3 and 4 or so) we decided to try a one mile version of The Walk for Hunger to get them thinking about how lucky they were and to realize that not everyone was. But they were sturdy wee men and made it to mile five before Mommy pulled the plug and flagged the "Toe Truck" to take us all back to the Common to catch the T. And there she was, apologetic for quitting so soon, but she had such a bad back, and twenty years ago she was only a sweet young thing of 68. We drove her home from the subway and Sister Miriam Patrice McKeon entered our lives.

When the boys went to school and I became a stay-at-home Mom, I often went to Daily Mass and, of course, she was pretty much always there. So we started chatting. Then we started having breakfast most days at a little diner in town, and I started to learn all sorts of things about her. She loved to sing, and to dance. I was her partner for more than one polka at a party. She had been cured of breast cancer the night before her surgery. Really. They couldn't find anything to operate on the next day. And she began to cure others with her prayers and her joy and her love.

She could speak in tongues, and every so often she would grab me by the hand after Mass and say, "I got a Word for you from the Lord." Then she would tell me what He wanted me to know.

She taught Bible studies at a home for unwed mothers and once a week I would babysit for the children who had already been born so their mothers wouldn't be distracted. Her faith was amazing to watch, and it was contagious.

She had a brilliant mind. She led retreats and marches and sat on Boards of Directors for groups that helped the poor. She was a highly coveted speaker and she cast spells with her kindness and her bright, burning love of God.

Then she had a fall and broke her hip and her arm, and she had to go to the Mother House in Wellesley to recover. But she was getting older and frailer and her falls came more often, so she stayed there. It was only half an hour drive from my house, but I didn't make as many trips as I should have. I started working full time in downtown and pretty much collapsed when I came home. Last week one of the Sisters told me she wasn't doing well and I went to visit her. She reached out her hand and took mine, calling me "Honey" and telling me how good I was to come. She told me I was a "holy woman of God." I was very moved by that until her funeral today when I found out she had said that to almost every one of the Sisters present. But maybe she was right. Maybe we all are "holy women of God." It takes one to know one.

She was tired and couldn't hang on any longer. Today I saw her for the last time, I listened to people tell of how much she had changed their lives. And how much she was loved. I felt what I had always known in my heart. I knew a saint, and we were all so privileged to have the opportunity to "walk her Home." I will miss you, Mimsy, but I expect to see you again. Meanwhile I will pray for you and to you, because if anyone can get it done, Sweetie, it will always be you.