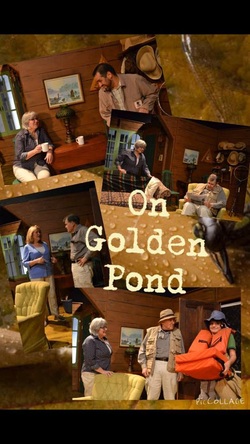 The terror of opening night looming one week from tomorrow is beginning to subside. The horror of the publicity photos is another matter altogether. I loathe photographs of myself. The mirror tells me such sweet lies; "Not bad straight on!" "You look MUCH younger than your years!" All fantasy. The close ups are an education in humility. In combination with the subject matter of the play it's enough to make one start actually thinking about mortality. Or at least about getting a whole lot more serious about Weight Watchers!

Last night we had the first run through in which we were not allowed to call for a forgotten line. For those of you not into theater, it's a lot like walking a tightrope without a net below. The theory is that if you had a real audience in front of you, you'd have to find a way to cover or cope or something. And we did. Which was a rather pleasant surprise, if not shock, considering the travesty which we tried to pass off as a rehearsal just three days before. I hung my head in shame after that one. But it's finally starting to "click". I'm finding nuances in "Ethel" and playing with them. All this and I get applause and occasionally flowers, too. I hope for the former. The latter is assured because Himself has finally figured out how this thing works. My friends quietly take him aside and say, "You want to stay married to her? You want to be able to close your eyes when you sleep?"

I won't be entirely sorry when this is all over, in spite of the ego boost and the delightful company. It's also been a boatload of work on top of my full time job. And immediately following the close of this play is Thanksgiving and the beginning of Christmas caroling season, so it's not as though I'll be twiddling my thumbs. Still, it's nice to feel wanted once in a while, and it's a pleasant change to go from evenings of watching bad television to figuring out where to leave my costumes for which acts, and carving new pathways through my old brain with pages and pages of dialogue and stage directions. And now I have discovered I really do have a new respect for loons.