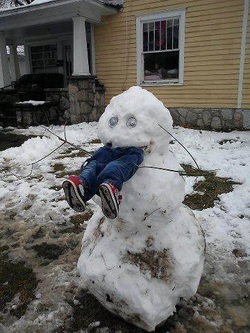 Winter has turned into an immortal monster. Just when you think he has gasped his last and the crocuses start to timidly peek above ground, back he comes with his arms flailing and his icy breath blowing the birds out of the trees. It's like the dinner guest who refuses to leave three hours after the dessert has been served. I, for one, am pretty sick of his company.

Of course the benefit of a March storm is that it never stays on the ground very long, although it will probably stay long enough to mess up Son Number Two's flight home tomorrow, something which I've started to expect from my charming snow magnet. Spring Break, which appears to be a real misnomer this year, starts tomorrow. Son Number One is also flying tomorrow, but he is headed to Seattle with his friend and won't be back here until next week, by which time the flowers may actually be here for real. I'm looking forward to deep voices in the house, empty milk cartons, and the traffic of friends coming and going at all hours. I watch in amazement as these young men float in and out of my area of vision. Trying to retract my "mommy claws" is difficult. They don't sleep enough, either of them. I have no idea how they manage to do so well at school. Nagging is pointless, but expected, so I do it but half-heartedly. I know it will have absolutely no effect. But what a joy it will be to have them home to nag!
It will be the first time I've seen them in person since "Uncle Jim" passed away a few weeks ago. They had a hard enough time when my dear Flanagan died in September, and then in November when my mother slipped away, but "Uncle Jim" had a special place in all their growing up years and they both adored him. We need to cry together, remember together, pray together, and then celebrate. Ritual is crucial at times like this, and then we will learn to live with the memories as a quiet companion in the background, and get on with the business of spring.