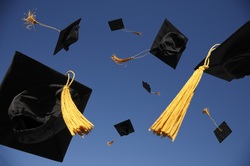 It is finally happening. This weekend Son Number One will graduate from college. It's been a whirlwind four years. He discovered a love for rugby (God help us all), had a romance or maybe two, and started to seriously figure out what he wants to do with his life and where he wants to be. I'm so proud of him. He's a fine young man and impressive in a million ways. He's so impressive that he's already found a job in Washington, D.C. with the Department of Justice and he'll be moving there sometime in July. The problem is that in my head he's still cutting out pictures with blunt edge scissors for the third grade poster of "Who I Am" in Miss Abravanel's class and I'm not sure I'm ready for this.

Washington isn't that far from Boston, and I know he can visit or we can. But it's not the same. And I guess that's the way it's supposed to be. There are so many feelings rising to the top of my consciousness that I feel as though I am bobbing in a swimming pool filled with champagne. Too many things are rushing at me at once and I can't interpret them. I'm happy for him. He's earned this and he's going to make a difference in the world. I'm proud of him. I'll miss him. I don't know how to be the mother of a grown man. I have no experience here. My own college life feels like last Tuesday, but it ended 41 years ago. There is wonder at the passage of time, both his and mine. There is awareness of mortality (mostly mine) and that's kind of strange. But under it all is a hum of peacefulness. This is what's supposed to happen. This is good. This is a chance for the world to renew itself and move on.

Maybe he'll be a brilliant politician who will broker world peace, while his younger brother (who goes through this next year), with his sharp scientific mind will find a way to keep the poor Blue Marble from exploding, or imploding, or whatever we're hurling towards. I'm stunned at how much they both know. I've stopped trying to compete or to impress them. It's time for them to grow greater and for me to grow...not lesser, but different. I move up a notch into the "Wisdom Figure" category, supporting him and his brother with a mountain and a half of love and having the sense to step aside and watch them soar. But for now, can you please pass me a tissue?