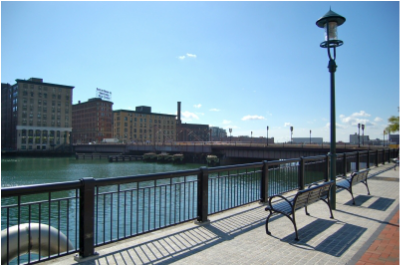 Not every walk to work over the Fort Point Channel is a festival of brightly painted pianos and fascinating tourists. Frequently I see homeless people sleeping on the benches that line the banks of the Channel. There has been an art display on since spring which has put 17 extra and very artistic benches on the sides of the Channel, but the benches most people choose are the sturdy metal ones that have been there for a while.
By the time I walk by in the morning most of the benches are empty, but often there will be what appears to be a pile of blankets on a bench. Many of the people (the "lucky ones") have the thick scratchy blankets used by moving companies. Some rest their heads on backpacks for pillows. Some tie their shoes to their ankles so they can rest their feet without waking up permanently barefoot. Not once in eight months has anyone asked me for spare change or the time of day. Having survived the night they are trying to pull themselves together for the day.
The colder weather makes me worry. There are always homeless people who will refuse to go to a shelter, like Boston's Pine Street Inn, because they are required to give up any weapons they have. They would rather make it on their own, outside, and keep the ability to defend themselves. They know the routine pretty well. Saint Francis House opens with warmth and food early in the morning and gives them a caring place to be for the day. The Boston Public Library offers shelter, too. But as I sit here playing the game of "I won't put on the furnace until November 1" I find myself thinking of them more and more often. Tonight we'll throw a log into the fireplace and heat the lavender scented neckwraps in the microwave. We'll watch the Red Sox win or lose in St. Louis on our big screen television and consider it a tragedy if they don't even up the World Series. And outside in the cold, men and women I do not know will be wondering if they will see the morning.