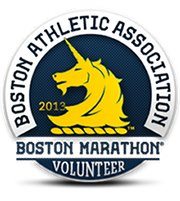 It's Boston Marathon Day. In this house that's like Christmas and Easter all rolled into one....at least for one of us. I'm off to work, but Himself took a personal day to cheer on his friends and look wistfully from the sidelines. And to party afterwards, of course.
Yesterday we both volunteered at the 5K race which is always the day before the Marathon, and that was fun. He was the Team Captain and got a black and yellow hat. We all got volunteer jackets, which is the reason that nine-tenths of the volunteers are out there anyway. Me, I've been collecting unicorns for years, but I think with his involvement in the Boston Athletic Association, Himself has finally passed me in that pursuit.
He's having second thoughts about sitting this one out, and he is now starting to talk about doing a fall marathon somewhere. I think it must be how Jewish children feel at Christmas. It's OK, you're happy for your friends, but how do you get in on this?
Personally, I'm recalling the days of schlepping two small boys, complete with folding chairs and a backpack filled with peanut butter and jelly sandwiches and juice boxes all the way out to mile 17 on the crammed subway cars, walking a quarter of a mile, getting sunburned, being bored for an hour or more and (in the years when we didn't MISS him ...yes, we did) getting to see an exhausted Daddy who stopped for a kiss and a picture and then ran off with the pack, and then repeating the whole craziness in reverse. I got better at it, of course (He has done eight Boston Marathons..so far) and found the parking space closer to the course, and the boys got big enough to lug their own gear, but it was never a vacation day for me.
So I'll wear my yellow volunteer jack to the office today, and I'll do dinner detail at his parents' alone tonight and help Mom get into bed. But the next time I'm in a play I'll be looking for roses on closing night. Just saying.