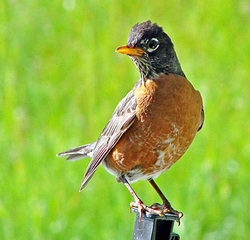 It's after seven and I should be making my lunch and figuring out what I'm wearing to work in an hour. I need a shower and there is a list of bills that need paying today. The trash also needs to go out. But outside my window is this bird. He sings above the roar of the large trucks and backhoes which are building a house down the street. Once again I marvel at how vocal chords that tiny can make themselves known from so far away and over such a ruckus. And while we're at it, how do they manage to look so comfortable on those telephone wires and what do they do in a storm?
In any event, the sun is streaming through the lace curtains in the parlor (yes, I say "parlor") and making interesting patterns on the wall and floor. Son Number Two is fast asleep in his room. I am assuming he cleared a path to the bed. Himself is out running on two good legs and enjoying the weather. I am sipping tea and stalling the beginning of my day. Morning is my time. Every so often I give myself permission to just sit and enjoy it.
P.S. "Bore da!" is "Good Morning" in Welsh, and my mind is wandering across the ocean this morning to my friends there, and one in particular whose vocal chords don't work as well as they used to courtesy of a bout with cancer. She is a wonderful writer and a great soul. Her beautiful blue eyes and pink cheeks shout "English Rose!" and so she is, but she's been transplanted to Wales, a lush and green country which I haven't visited in far too long. Her warm and welcoming heart takes the edge off many a hurt for me, and even at this distance I can feel her hugs and prayers. So "Bore da, Margaret" even if it's afternoon there and you're having your lunch.