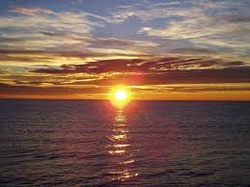 It's the first day of summer, and, as is our family tradition, we all get up at sparrow fart and drive to a place very appropriately named Nut Island to watch the sunrise on the longest day of the year. Except this year we made some modifications. Son Number Two is away for the week, so my wonderful father-in-law filled in. And I stayed home in bed until 7, which was the smartest decision I've made in such a long time! The three boys, Himself, his Dad, and Son Number Two, all went out to breakfast after viewing the sunrise over the water. This is also a tradition. I have been many times. This picture came off the internet and has nothing to do with Nut Island, but trust me....it looks just like this.
A week of double shifts, working both jobs has left me feeling my age and a bit of someone else's. Sleep was the wiser choice today.
Now it's time to get dressed and go to the office, where the coffee is free and the people are warm. There will be more material for the book that provides the running commentary for my day, and the voices in my head will keep me company on the subway. They've already started whispering that the days will now start getting shorter. I've already told them to shut up.