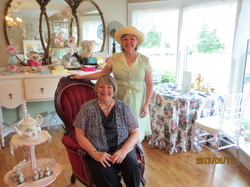 Today my BFF since the age of 11 (which is more than twenty years, I will admit) and I celebrated our mutual birthdays together, as we do every year. This year, however, she found this incredible little tea room in Walpole, Massachusetts called "Fancy That". It's all bone china, tea cozies, delightful finger sandwiches and pastries, lovely Victorian this and that, and the nicest host and hostess I've come across in a long time. There is even a picture of Queen Elizabeth II in the gift shop(pe). I am in love with this place.

The selection of teas was impressive, the food delicious, and the attention to detail mind-boggling. Ladies, there are roses on the TP in the loo! In this delightful, unhurried atmosphere, my friend and I caught up on our chaotic lives and didn't worry about anything or anyone for close to two hours. I took away (well, I paid first....) a loaf of lemon poppy bread, a package of gorgeous paper napkins that can double as doilies for the center of the table, and a book of recipes for Welsh tea cakes.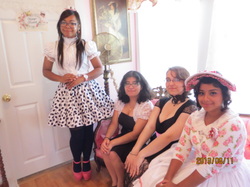 A group of four young friends were in another room of the shop, all dressed up in outrageous shoes and hats and tea things. They were college friends and adorable. It was a first for them, too, and we all took snaps of one another.

Sometimes it's the little things that make a day; the diversion from the hum drum, the celebration of charm and elegance and grace. Generation gap, my eye! They were as into this whole scene as BFF and I. So here's to civility and lace and doilies, to hats and bone china, calories and old friends, however long you've been old friends. For some of us it just happens to be a bit longer than for others.