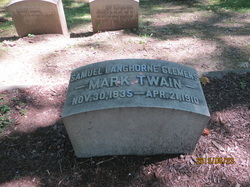 I am not, by nature, a big cemetery goer. While the Corporal Works of Mercy invite us to "visit the sick and bury the dead", nowhere is there anything about "visiting the dead" so I just tend not to do that, although I carry those I love and have lost with me all the time. But when I was recently in Elmira, New York, I found myself drawn to the graveside of one of my favorite writers in the world, Samuel Langhorne Clemens, A.K.A. Mark Twain.
Himself and I had just come from visiting the study Twain's sister-in-law had built on her property for him. It's a glorified gazebo and now sits on the lawn at Elmira College and gives the local high school kids a job for the summer as they greet visitors and hand out pencils. It was lovely, but it didn't move me the way his very simple burial place did. While there is a large monument, erected by his one surviving child in memory of Twain and of her husband, the basic setting is very humble and sweet. Twain lost two daughters and his beloved wife before his own death, and the inscriptions on their tombs, written by the heartbroken father, cut to my heart.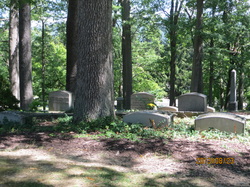 Nestled in amount the trees with his girls by his side, he is just "Father" and all the hoopla about the amazing characters he created that have become part of the American fabric disappears. I don't know what I was expecting, but the humility of the man, the solid grasp of what actually mattered has had me praying for his soul ever since. I hope the reunion was a happy one and that his anger has been transformed into joy. I only wish I had had the opportunity to buy the guy a beer and listen to him talk. Well, maybe one of these days I'll get the chance yet.