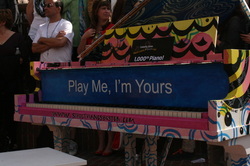 Bears have the right idea. As I lay in bed this morning at 6:30 in a completely darkened room, I realized that four months ago the sun would have been up for two hours already and I would be listening to the birds. There might have been a tinge of resentment at being awake at 4:30 in the morning, but I still would have been loving the birds. This morning not so much. The room was cool, which might have something to do with the air conditioners still being in the windows here (ever the optimists, we) so I was enjoying the flannel sheets under the summer quilt. Even I am not wuss enough to break out the down comforter in October. But what did occur to me as I lay there was that it would be lovely to be a bear and sleep through the less appealing parts of the year after a gigantic pig-out in which I could, and clearly should, stuff my face with anything and everything I wanted before a long nap. And we haven't even turned the clocks back. And we're two months away from the shortest day of the year. This is not going to get better soon.

It is necessary, therefore, to create our own light and joy and fun where possible. At the moment there is an exhibit all around the City of Boston of 75 brightly and creatively painted pianos, all just sitting in public places daring you to sit down and show your stuff. Some of the paintings are brilliant. Now I love music, but I will tell the world that I sing a whole lot better than I play piano. I couldn't read a note of music until I was 52. My then ten-year old Son Number Two was playing away with gusto and I stood and listened and said, "I've always wanted to be able to do that!" He stopped playing, looked over his shoulder and said to me, "Well, you know, you're not dead yet," which I took as a challenge. One eight-week high school evening course and eight years of private lessons later, I still feel as though someone gave me the Rosetta Stone as a birthday present. It is so cool to make sense of all those squiggles. So yesterday morning I made a copy of all three pages of "Bridge Over Troubled Water", slipped it into sheet protectors, and went to work.

I left for work early, my mission in mind. Every day I cross the Fort Port Channel on my way into my office, and I had discovered the day before that there were pianos on both sides of the bridge. I discovered the first one when the most haunting music came out of nowhere to do gentle battle with the recorded Irish fife music from the Boston Tea Party Museum. There, tucked around the corner on the near side of the bridge was a pretty young woman who had put down her briefcase and was causing the most delightful, lilting sounds to come forth from a brightly painted piano. She didn't have a note in front of her. It was all coming from her head. I was suitably impressed. When she had finished I applauded and asked what the gorgeous tune was. "Oh, I was just "noodling" with something in my head," she answered. I was in awe.

So there I was the next day, copied music in hand (because nothing stays in my head these days) and I plunked myself down at the same piano. In copying the music I had cut off the chords from the top of two of the pages. It took me a while to get settled. My tote bag kept falling over. The music kept slipping down and I had to tuck the edge of each page behind one of the brightly painted fish on the front. Never mind. I plowed through. And when I finished I crossed the bridge and did it again in front of the Children's Museum. The piano there had a "Punch and Judy" theme, with a glass window in which were a Punch and a Judy doll. I was sorry to need the sheet music there, because I discovered to my child-like delight that when you hit the keys the hammers hit their strings and they moved. Heaven.

My playing is sad, but I'm not. I had a ball. And I may leave for work early every day next week to find new pianos to play before (or after) work. Maybe James Taylor....or Bill Staines. Nothing fancy. Maybe I'll just keep playing "Bridge Over Troubled Water" until it improves. And now that I think of it, maybe it's just as well that I'm not a bear.