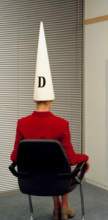 It's happened again. I made a political statement on Face Book that expressed my displeasure with every single Republican voting against equal wages for women. The firestorm has begun.

Why can't I content myself to see pictures of cute kitty cats, or the eight-hundreth four year old singing her version of Disney's "Let It Go"? I could take a picture of my dinner or find out which character I am from "The Wizard of Oz". I could even take a "selfie" once I learn how to use my new phone. Why the hell did I have to let the world know I'm a liberal Democrat? I even had the nerve to say in the (nasty) conversation that followed that I liked President Obama. Oh boy.

Feeling obliged to check in and totally castigate me are former friends from decades ago, family members, and people I don't even know. Why am I not allowed to have my own opinion? They seem quite vocal about theirs. And I can't be the only one who thinks this way because, hey, he DID get elected. All of this is beside the point. I should know better by now. People prowl the pages of the internet looking for something to pounce on. You can sense the hand-rubbing, eye-sparking glee when someone stupid (like me) falls into their trap. They don't call it "the web" for nothing. I am the fly and they are the spiders and they're having a ball.

Well, my vote cancels one of their votes. That's some comfort. But I think I'll stick to pictures of kitties for a while until they all calm down.