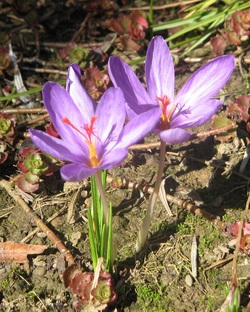 After the winter that made me wonder if my husband had secretly moved us to Greenland during the night, it was lovely to see the crocuses blooming here and there on the lawn of the Federal Reserve Bank in Boston on the Summer Street side, across the street from South Station. They aren't in big, dramatic clumps. They are lightly scattered and most people walk by without noticing them, but they are really delightful. Last week all the flowers were yellow, which I'm beginning to think is some "crocus hierarchy" thing, since they come up first on my lawn, too. This week we have purple, and a few scattered white (with a hint of purple stripes). They are as cute as anything and I'm liking them a lot.

Here amid the concrete and steel of the Fed, surrounded by metal posts set into the sidewalk to keep trucks from driving through the windows and grabbing the money (I guess...although someone could just have really lousy taste in statuary) are these humble little patches of color, like tufts on a hand-stitched quilt.

I make a point of checking on their progress every day since I feel that anything that grows downtown needs encouragement. I try not to talk to them aloud (people don't understand) but I do smile at them every single time I pass them. They won't last long. They never do. But while they are here I intend to enjoy them.