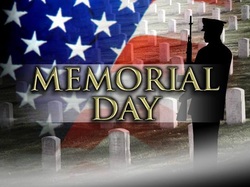 I don't go to barbecues or the beach on Memorial Day weekend, generally speaking. Neither do I go to the cemeteries where my brothers and my father lie. Wayne was 22 and just back from a tour with the 7th Cavalry in Viet Nam when his life ended in a car accident. Earl ("Smitty") was 42 and a veteran of Viet Nam, too, with the 82nd Airborne, when lung cancer took its very long time to end his pain. Dad was a sonar man in WWII with the Navy and cancer got him at 72. All of them were seeing far too much when they were younger than my sons are now. I can't even begin to imagine what going to war does to people. My sons don't understand why I still object to the video games where they spend hours shooting at "the enemy". Sometimes I don't understand that myself, but the connections are beginning to bleed through as I get older. Life is precious. It just is. All of it. Born, unborn, innocent, guilty, bugs, and animation that represents life in any form. The only reason that I'm not a vegetarian is that I don't think about it for very long, and I draw comfort from the fact that even Jesus ate fish.

On this Memorial Day I hold these men, and all the men and women who are and were so much braver than I can ever imagine anyone being, close to my heart in a loving and awe-struck way. I salute you with tears and a lump in my throat. I bless your memories with my prayers and my quiet moments stolen today to just appreciate the gift of being here and breathing.

There is not one thing wrong with barbecues and parties and celebrating with friends. I hope you all enjoy yours. Just take a moment sometime today to give a thought to the amazing men and women who have made it possible for all of us, with our priceless freedom, to wake up every day in a place where such happy gatherings are possible. And until our paths cross again, sleep well, my heroes. I send a kiss heavenward just for you.