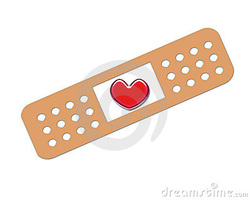 Yesterday Himself and some friends went for a bicycle ride. It wasn't a very long one (he has been known to go over a hundred miles just to pass a Saturday) but it turned out to be eventful. He hit a storm drain which was four inches below the road and over he went. When he came home (rather earlier than I'd expected) I noticed something on his nose. I thought it might be a leaf, or maybe a scratch. I asked him about it and he turned and said, "Maybe it has something to do with this," at which point he showed me his scraped shoulder, elbow and knee. It's a good thing I have Mommy experience, because I sat him down, ran to the store for antiseptic pain killer spray and big bandages. We don't get this size "boo boo" around here much anymore. After a shower and a bit of patching up he went up for a nap and seems fine today except for sore ribs which the doctor will take a look at later this morning. We are (as we have always been) blessed and watched over by many angels.

This, in combination with a couple of TRULY alarming Boston drivers this week and a pedestrian in Plymouth who strolled across the street at night in front of my car was a reminder to me of how much I need those angels. Every minute is a miracle, and a life can change in the time it takes to gasp. A very dear friend of mine lost her husband with absolutely no warning. Another has been diagnosed with cancer. Another whose fabulous career I have long envied has been searching for work for months and is in a panic. And then there are those friends of mine who have left me unexpectedly. Nothing is guaranteed. I know we all know that, and the stress of trying to appreciate each and every precious moment would drive us all crazy and make us pretty annoying to be with, I'm guessing. Still, the mindfulness of the Buddhists is not such a bad role model.

Life is speeding by pretty quickly at this point. I am amazed and amused at how old I will be on my next birthday, and I have mixed feelings about how many seats I am offered on the subway these days. On the other hand, I am perfectly happy to be on the "back half of this golf course and heading for the club house." There's still a lot of life left here, mind you, and I'm still trying every day to improve the quality of it, whether it is July Resolutions to clean the house or to drop a few pounds or exercise more, every day is New Year's Eve. Nevertheless, I don't envy Dr. Who (apologies to those of you who are not sci-fi fans of this wonderful BBC show from Wales). He's over 900 years old and never dies. He just "re-generates". At some point I'd rather take the rest.

But while I'm still here I am so grateful for my angels and for the prayers of friends (and now that I think of it, have you ever seen them in the same room at the same time? Hmmmmm.) and for Himself who continues to make me look like a slug, but a happy one.