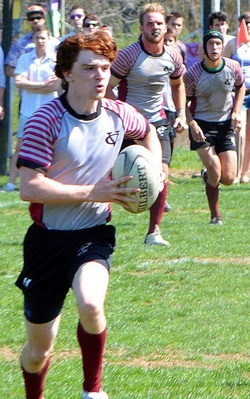 It was bound to happen. I knew it the first time he picked up a rugby ball. Yesterday a knee to the face resulted in a broken nose for my college senior, who has avoided serious injury (at least that he informed me about) up until now. Luckily in this age of technology, even for Luddites like myself, Son Number One was able to comfort me long distance with a "selfie" which really didn't look all that bad. I suspect that today there will be panda eyes and more swelling, but at least he went to the emergency room for treatment so he's been seen by someone who knows significantly more about broken noses than I, with my fairly useless degree in French. To tell you the truth, that nose which started out like a tiny button all those years ago, has been looking a little "askew" for a while; not obvious, but just the tiniest bit crooked. Mother is suspecting that this might be her baby's second broken nose, but who can tell?

The trial of the long distance Mom is to stay calm and supportive and let him handle it on his own, which he is quite capable of doing. He even used his "Talk Her Off The Ledge" voice when he phoned to assure me he was fine. I know it could have been a far worse injury. All those prayers and guardian angels I dispatch seem to be doing the job. My idea of winning a rugby game is empty ambulances on the edge of the field. This is football with no padding. This is, in my humble opinion, nuts.

And so I absorb another exercise in "letting go", a class for which I don't remember registering. Son Number Two is in Cleveland fencing for his university. I hope he doesn't come home with a dueling scar across his cheek. That test I would certainly fail.