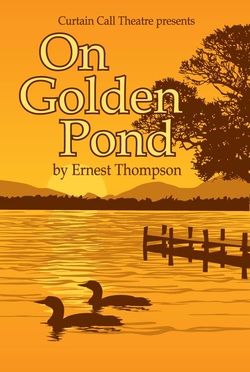 After months of struggling to train an aging brain to memorize more dialogue than I thought possible, and weeks upon weeks of Himself having to dine alone while I rehearsed and rehearsed until ten at night, the curtain has finally fallen. The set has been dismantled, the flowers are fading, but the memories won't. I'm going to miss the insanity of being a leading lady.

There were six performances, and we got standing ovations for half of them. I suggested to the director that this had a direct correlation to whether or not I was able to come up with real tears for the final scene (which I did three times...hmmmmm) but he wasn't so sure. My leading man contracted pneumonia somewhere along the line, which at age seventy-something is nothing at which to sneeze, but kept plugging along and barely missed a beat.

The show itself was very funny and touching. While the movie is mostly about the relationship between Norman and Chelsea, as played by Henry and Jane Fonda, the play is actually about the relationship between Norman and Ethel, a husband and wife who have weathered nearly half a century together and are approaching the end of the line. The topic of death dances through the play, but this is no tragedy. It is a celebration of love in every sense, between two people who have learned to treasure each other over the years, and between parents and their adult child. It also celebrates the ability of the heart to grow and admit new love, in the form of an unexpected relationship with a grandchild.

Needless to say, it has given me cause to stop and look around at my own life with a bit more attention. We take so many moments for granted. There are so many little nuances in our interactions with family and friends. So many silly little "ticks" that we miss enormously when they disappear. It has also made me miss (or remember that I always miss) so many people who have taken their final bows in my life. Well, the curtain that separates us becomes thinner and thinner, and, as Ethel said, "It's not so frightening. Not such a bad place to go."

I was blessed with a huge number of friends who took time to come and cheer and clap and cry and say nice things. I was showered with praise and with beautiful flowers. I even got to keep the "65 year old doll", Elmer, who was Ethel's childhood companion. I loved that the director had us take our bows as an ensemble, because that is a true reflection of how this lovely play came into being. Everyone was such an integral part of the whole, and I wish there had been room on stage for the set designer, the director, the lighting crew, the stage manager, and the many more people who quietly performed their labors of love in the background, gathering props and finding the right clothes for us to wear.

And so I go back to the real world tomorrow, but with a bit of a spring in my step, a tiny bit smug at the success we pulled off, a bit more confident in the abilities of an aging brain, and eager to find what comes next!