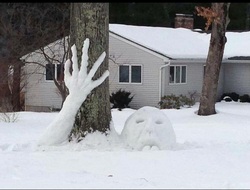 I have a long-standing tradition of never complaining in the winter, no matter how snowy or cold. You may well think this is stoic or hardy or patient of me. The truth is I like to reserve my whining rights for the summer when I really find the weather intolerable. Anything over 75 or so and you'll find me huddled near an air conditioner, whimpering. I am about to break the tradition.

Last week I was stuck in the house with the flu. OK. I'm feeling better now, thanks, and did get to leave the house twice over the weekend (three times if you count church, which I suppose I should). But once again Monday has arrived and my street has disappeared. The view outside my window looks like an alien world. I've watched "Doctor Who." I know what those look like, so let me assure you I have some credibility here. My six foot tall stockade fence is invisible. We won't talk about what I vaguely remember as hedges in the front of my house. There is a tiny pathway leading to the street and we only use that lately to get out the door, round the corner, and shovel out the driveway, which is another matter altogether. I'm only the tiniest bit over five feet tall, so it has become more or less impossible for me to shovel, but my six foot tall husband has it no easier. There is nowhere to put the new snow anyway.

In less than two weeks we have had approximately six feet of snow. And it isn't even Valentine's Day yet. Spring in New England doesn't begin to think about arriving until somewhere around St. Patrick's Day, regardless of what the Pennsylvanian Rodent says. On March first the Ice Creamsmith opens in Dorchester and I try to convince Himself that spring arrives on that day, but I actually do know better. Wishing does not make it so. I miss going into work and seeing people. We are not running out of food (thank you, Lord) but the selections are getting a bit....oh, let's call them "creative". I am so desperate for something completely different to do that I am planning on spending this "found day" cleaning. How sad is that?

We New English (why don't they call us that, anyway?) are sturdy stock. We will get through this, and in a month or so my hedges should re-emerge from the mini Alps which are currently my front lawn. But just for the record, I have seriously had enough of the (insert your favorite expletive here) snow.